Wireless do it yourself home security system
Below is a picture as to how the wireless alarm devices connect to the  (VG-IP510) camera.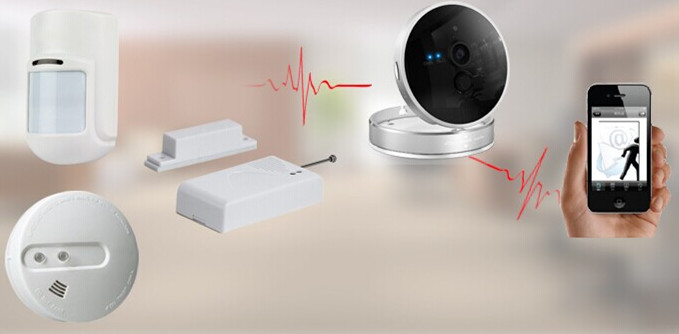 As you can see, the wireless peripherals (Passives and Door Contacts) connect to the IP camera (VG-IP510), and the IP(VG-IP510 )camera then connects to the existing WiFi, enabling Remote access Locally or Remotely.
NB - VG-IP510 as illustrated above has an additional Temperature and Humidity Sensor, and can also be used as a baby monitor.
VG-IP500 as Illustrated above using the VG-IP510 as an example the VG-IP500 will perform the same function and connectivity to wireless alarm devices, however as the added benefit of PTZ remote control, it can be panned left/right, up/down, and has a scan area of 360 degrees.

The 2CU app can be downloaded at the I-Store for Apple Products and Google Play Store for Android, this application allows the user access the above mentioned cameras thus allowing the user to view their business or home remotely on their Smart device from anywhere in the world.Should the system be armed from the 2CU app and the system activated, then a warning will be sent notifying the user on their smart device, iether to "block" "ignore" or remotely "view" the alarm/video stream 720P HD.