D5 Evo - Add Nova Remote
Once the motor housing has been removed you will see the controller as pictured below.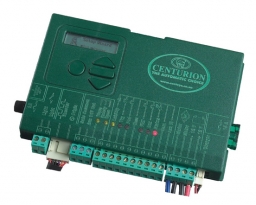 Below the LCD screen are 4 buttons. These are Escape (circle), Enter (rectangle), Scroll Up (triangle) and Scroll Down.
To enter programming mode press Enter for 2 seconds.
Use the Scroll Up or Scroll Down buttons until you see Remote Controls on the LCD display.
Press Enter and follow the prompts to add or delete remote controls.
To exit programming, press Escape until the display shows the gate status.